Largo Park Available Office Space Inventory
On-Site Management & Security | Largo Metro & Shuttle Bus Service | Meeting Facilities & Food Nearby | Daycare Centers | Post Office
Verizon Fios and Comcast Business Voice, Video, and Internet Services Available

(minimum Lease terms apply)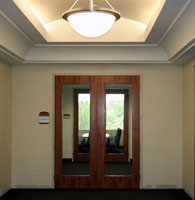 Largo Park Executive Centers
1-3 room executive offices from around $400/month and up.
Complimentary conference rooms, free WiFi, reception areas & kitchen.
1300 Mercantile Lane Executive Center
1401 Mercantile Lane Executive Center
9500 Medical Center Drive Executive Center
TO VIEW FLOOR PLANS - CLICK ON THE ACTUAL SUITE NUMBER OF THE SPACE YOU WANT TO SEE



1300 Mercantile Lane

SUITE
SIZE
RATE
MONTHLY
TYPE
INFO

Largo Park Executive Cente

r - Single rooms from around $400/mo.
complimentary conference, WiFi, reception area
220
1,956
$22.00
$3,585
net janitor
Ground level multiple rooms. 5 year term. New build out.
1400-1450 Mercantile Lane

1400 suites are even and 1450 are odd)
SUITE
SIZE
RATE
MONTHLY
TYPE
INFO
140-150
2,899

or 1,326-1,573

$22.00
$2430-$5375
net janitor
multiple offices, 3 bathrooms, kitchenette - available September, 2018
184
1,324
$22.95
$2,530
net utilities/janitor
ground level entrance, flexible floor plan options
9500 Medical Center Drive

SUITE
SIZE
RATE
MONTHLY
TYPE
INFO
230

3,040

or 1,396-1,644
$25.95
$3020 to $6575
full service
Front corner windows, kitchenette, may divide.
370
1,919
$25.95
$4,150
full service
corner windows, kitchen, call for info
9701 Apollo Drive

(5 yr rates shown - add .75 psf for 3-4 yr terms)
SUITE
SIZE
RATE
MONTHLY
TYPE
INFO
231
1,285
$25.95
$2,780
full service
5 offices, conference room, reception area
253
1,629
$25.95
$3,525
full service
4-5 offices, large conference room, copy room, reception area
380
1,358
$25.95
$2,935
full service
3 windowed offices, conference room, copy/files nook, rcecept area
411
938
$25.95
$2,030
full service
2 windowed offices, conference area, reception area
1401 Mercantile Lane

SUITE
SIZE
RATE
MONTHLY
TYPE
INFO

1401 Executive Center Suite 200

- 1-3 rooms w/ complimentary conference, WiFi, waiting area & kitchen
483
843
$25.95
$1,825
full service
2 windowed offices, conference room, reception area
571
942
$25.95
$2,040
full service
3 offices, conference room, copy area, reception
5th floor
up to 12,056
from $25.95
full service
May divide. call for details